How to help Richard's campaign for Nelson
Host a sign at your house or business
Election signs can start going up from Tuesday 2nd April and will be up until election day on Saturday 4th May. Signs are an important tool in helping raise awareness of the upcoming election and are very effective at publicising a candidate. Please email or call Richard with any questions - 0438 252 387 - Richard@richardgriggs.com.au
Suburbs where sign sites are needed: Kingston, Taroona, Mt Nelson and Sandy Bay.
What the sign will look like: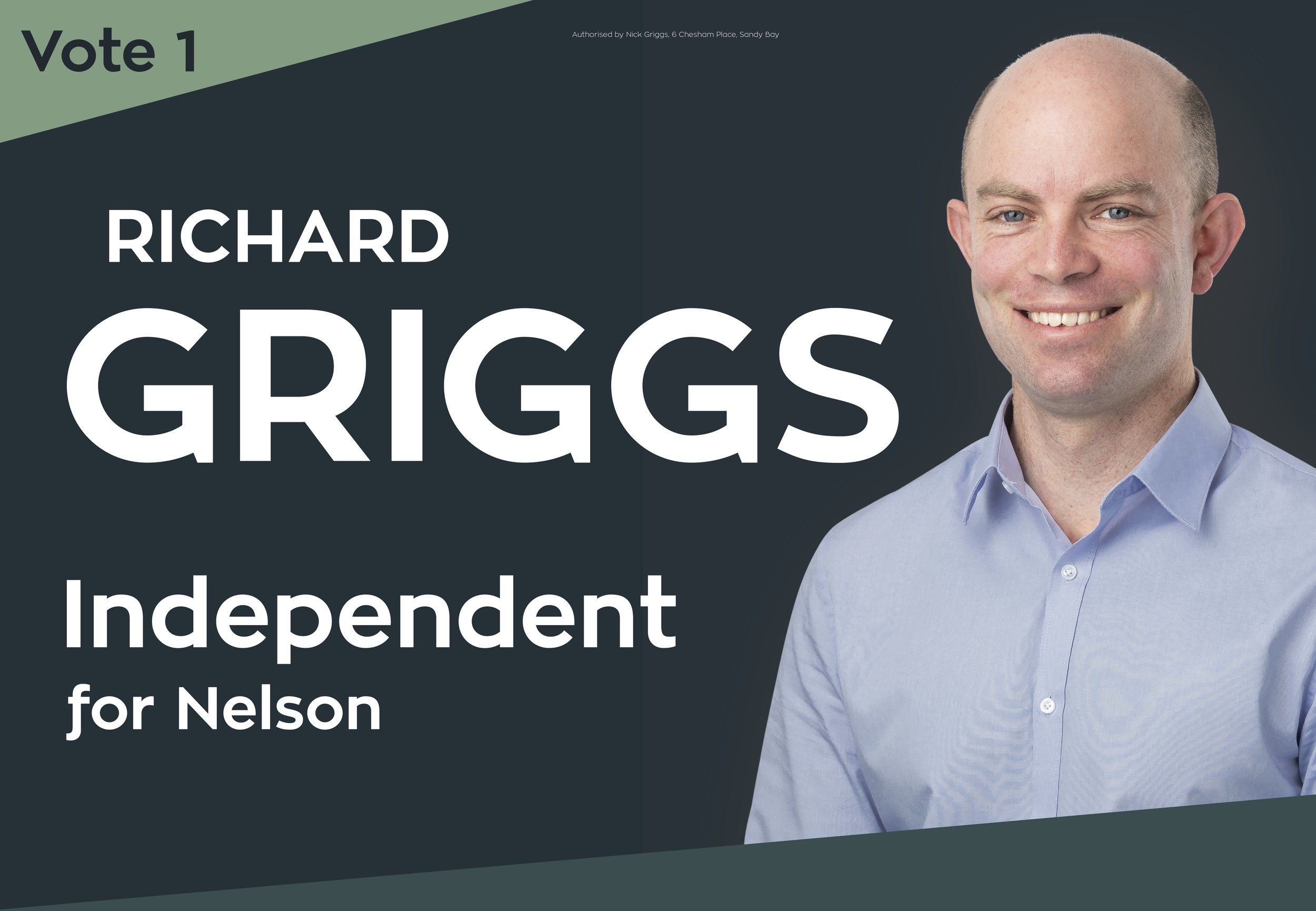 Make a financial donation
As an Independent Candidate I do not have financial support from any political party or business. I am largely self-funded with my wife Kate and I saving money to fund the campaign. Any donation you are able to make to assist would be much appreciated.
Please note - I have previously suggested as part of the review of the Electoral Act that political parties should be required to disclose, in real time, donors who contribute $1,000 or more to an election campaign. This is an important transparency mechanism that Tasmania needs to embrace to enhance confidence in our democratic process. To ensure I apply the same standard to myself I will disclose on my website the name of any donor who provides $1,000 or more to my campaign. This will be done within 24 hours and will be calculated cumulatively.
DISCLOSURES OF DONATIONS RECEIVED: $2,000 - Nick Griggs (Tas); $2,000- Stephanie Griggs (Tas); $1,500 - Michael Taylor (WA); $1,500 - Geraldine Taylor (WA).
To discuss making a donation, please call or email me at any stage - 0438 252 387 - Richard@richardgriggs.com.au
Follow me on Facebook and Twitter
Please like and follow my social media. You will find links at the top of this page.
Then, if you see a Facebook post or tweet that you particularly like, please share with your friends.
If none of the above options are suitable for you but you would still like to help, there is lots more to be done including letterboxing, doorknocking with Richard, organising a meet and greet opportunity for Richard to meet your friends, neighbours or colleagues. Please contact Richard for further details.